Xingu Wristband
€37.19
These wristbands come from the Xingu tribe in the Brazilian forests. This is a close looped elastic wristband. This wristband should fit everybody
Width; 4 cm
Length; 8.5 cm
Circumference; 18 cm
In stock
Xingú bead-art
In Brazil, there are several tribes that traditionally make bead-art. The Xingú people from brazil are have developed a special style. In various pieces, they use the smallest beads available. And for their wristband, they use a strong and elastic string.
The Xingú
The Xingu Live close to the Xingu river. They have many cultural similarities despite their different ethnologies. Xingu people represent fifteen tribes and all four of Brazil's indigenous language groups, but they share similar belief systems, rituals, and ceremonies.
The Xingu Indigenous Park encompasses, in its southern portion, the cultural area known as the Alto Xingu, formed by the Aweti, Kalapalo, Kamaiurá, Kuikuro, Matipu, Mehinako, Nahukuá, Naruvotu, Trumai, Wauja and Yawalapiti peoples. Despite their linguistic variety, these peoples are characterized by a great similarity in their way of life and worldview. They are also articulated in a network of specialized exchanges, weddings and inter-village rituals.
Huka Huka
Among the indigenous peoples of the Xingu, Huka-Huka is the dance-fight that closes Kuarup, the ritual of celebrating the resurrection of the dead. The indigenous peoples of the Xingu say goodbye to their dead by celebrating Kuarup, a joyful ritual for ending mourning. "The dead don't like to see the living sad," they believe. For this reason, they have an exuberant party, where the "kuarup", which are decorated wooden logs, representing the spirit of the dead.
The ceremony begins the night before when the logs are brought in from the forest and placed straight in the center of the village by the men. Then, they begin to be cut out in human form, painted with yellow and red stripes, and ornamented with the main objects of the deceased.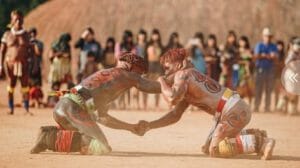 At night, the men, with their painted and ornamented bodies, perform the beautiful fire dance. Carrying torches of straw on fire, the men sing mythical songs and dance with paced steps to the sound of the maracas, until the call of the shaman, who evokes Tupã, begging for the resurrection of the dead.