kuripe – colored threads
$29.47
New improved design !
Bamboo Kuripe.
Very nice quality. the threads are very securely attached. With copper energizer.
The makers of this style of Kuripe have made some changes in its construction. These Kuripes have a steeper angle and are also a lot longer. This way the blowing path is extended and creates more pressure which ensures better delivery of the rapé.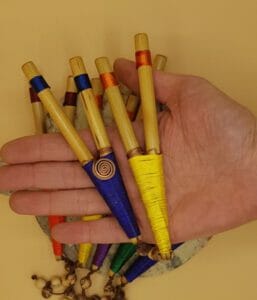 Another change is an internal aspect of the Kuripe design. At the bottom of these V-shaped Kuripes each bamboo part is filled with organic sticky material. After drying the pieces are fitted together. This detail will prevent the accumulation of snuff that normally you won't be able to blow out. The bottom of these Kuripes now have a rounded shape and improves their performance